With 30 years serving the Lubbock and West Texas areas, Condray Design Group understands what attracts visitors to our community. Enriching the lives of those around us while creating iconic structures is the embodiment of architecture's renowned purpose.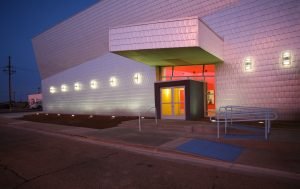 CDG has designed some of Lubbock and West Texas' most recognizable and distinguished buildings which reflect the contextualism of this region. We take the time to educate our team of professionals on what is important to our client while honing our craft to benefit our community and culture.
We work closely with civic service leaders to help establish spatial connections that bring individuals together for a greater awareness of our society both locally and regionally. We understand what it means to incorporate vision and intention while balancing form, flexibility, and budget.
SPATIAL CONNECTIONS THAT BRING INDIVIDUALS TOGETHER FOR A GREATER AWARENESS OF OUR SOCIETY BOTH LOCALLY AND REGIONALLY.
A community project that was awarded the American Institute of Architects Lubbock Chapter's Citation Award was the YWCA Sun 'n Fun Aquatic Center. The YWCA project also took home the International Interior Design Association Texas-Oklahoma Chapter's Design Excellence Award, Best in City Center.